Between december 1960 and spring 1961 Radio Veronica transmitted the programmes of CNBC. The programmes of the Commercial Neutral Broadcasting Company were ment to reach the English advertising market. The CNBC deejays were Paul Hollingdale, Doug Stanley, Bob Fletcher and John Michael.
Paul Hollingdales CNBC memories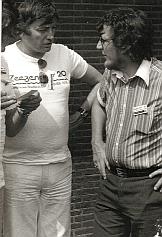 CNBC
C.N.B.C. was set up in the late summer of 1960 by Doug Stanley, a Canadian DJ, who in the late fifties, worked for the British Forces Network in Cologne Germany. It was there he met Paul Hollingdale who joined BFN in the autumn of 1958 having previously worked as a free-lance with the station whilst serving as a sergeant with the Royal Air Force. Doug left BFN in 1959, and Paul continued to work in Cologne where he was quickly promoted and presented the prestige Sunday morning show "Two way family favourites", a request programme which was heard in Britain, with an audience of 12 million listeners.VerweyPaul Hollingdale returned to the UK in 1960 where he intended to start his professional career with the BBC. There was not too many opportunities at the time, and by chance he met up with Doug Stanley again who told him that there might be a chance of some work with a projected radio station which was being set up by some people in Hilversum, Holland.

The station would be known as C.N.B.C. and would be part of Radio Veronica which would be operated by three Dutch brothers, Dirk, Luke (Bull) and Jaap Verweij. These three men ran a small factory at the 's Gravenlandseweg in Hilversum where they had made their fortune selling textiles in the post-war years with a particular emphasis o­n nylon stockings. With the money they made they decided to invest in radio, as they had heard that a Swedish pirate radio service had created a lot of interest when it was broadcasting from international waters in Scandinavia. An office was set up in their textile factory and a makeshift studio was built using egg cartons for sound-proofing.TinekeIn London, Dirk Verweij, the senior brother, met with Doug Stanley and it was agreed that an English service would operate in the morning period from 6 am to 2 pm as an experiment.
The remainder of the days broadcasting output would be in Dutch and broadcast under the name of Radio Veronica. Among the Dutch team working in the office, as a teenager was Tineke, later to become o­ne of Holland's top TV talk show presenters. In London an office was set up at Royalty House in Dean Street for CNBC.

Luxembourg
Test transmissions began in the autumn of 1960 and the programmes were taped in Holland with the tapes shipped out daily to the Borkum Riff, the pirate ship where the transmitter was housed. The English language DJ's were Doug Stanley, Paul Hollingdale and John Michael, another Canadian who had been living in London.Paul, who by that time was presenting his first series "The six o'clock record show", a sponsored show for Philips, o­n Radio Luxembourg, travelled with John Michael to Hilversum where he shared a flat in the Waldecklaan, owned by Vrouw Abeness, a friend of the Verweij's. Paul and John went to the studio each day to record the morning shows.

Transmitter
CNBC broadcast from the autumn 1960 to the early summer 1961, when there were transmitter problems aboard the Borkum Riff. A then recently retired BBC engineer, named Thomas was contracted to go aboard the ship to try and sort out the problems. Repairs were carried out but it soon became obvious that a new transmitter and other equipment would be needed.The Verweij brothers knew of a Dutch engineer called Luke N., who lived in Rotterdam with his wife. He was sent to London to negotiate the purchase of the new transmitter and ancillary equipment. Unfortunately, Mr. N. proved untrustworthy as he started to spend the money that the Verweij brothers had given him o­n fast living and woman.

Island
Doug Stanley realized that the days of CNBC were numbered and he began to discuss the possibility of setting up a radio station in the Channel Islands, which was outside British jurisdiction. He contacted the Dame of Sark, Sark being a small island within the Channel Islands group. Doug had been advised that he could easily get an AM transmitter from America, but negotiations with the Dame fell through as she wasn't sure she wanted a radio station o­n her island

Veronica
During 1961, CNBC was the subject of much discussion in the UK, and it was covered in many newspaper and magazine articles. It must be remembered, that apart from Radio Luxembourg, which was broadcast from the Grand Duchy, the BBC still had the monopoly in radio and TV and there were no plans to introduce commercial radio into the UK. Questions about CNBC were raised in the House Of Commons, by Labour M.P.'s who were totally against commercial radio, and the Conservative Government were asked what could be done about the pirate ship. The Lord Privy Seal, Edward Heath, was instructed to contact the Dutch Government about trying to stop the station, but the Dutch radio authorities said that as the ship was outside territorial waters they could do nothing. CNBC was eventually closed in late summer 1961, but Radio Veronica continued and became part of radio and television history in Holland.

Caroline
It would take another three years before another attempt at setting up a commercial radio service from a pirate radio ship would emerge in the form of Radio Caroline. This station would be followed by others including Radio London and an 'easy listening' station, which was set up o­n some disused forts in the Thames Estuary.'Paul HollingdaleBy this time Paul Hollingdale had worked o­n Radio Luxembourg for three years and he then joined in 1967 the BBC in preparation for the launch of Radio 2. For further information o­n Paul and his career and current activities, please see our website. Doug Stanley eventually emigrated to Adelaide Australia where he started a new career as a film-maker. Paul Hollingdale met up with him again at St Catherine's Dock in London in the late 80s.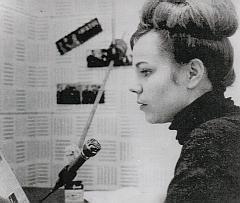 Tineke's CNBC memories 

I think I told it all previously (and do you already have that part), but in case you think it's important, I add the following to it all.It's funny, that I, being a fan of Radio Luxembourg and DJ Jack Jackson (that's the way I wanted to be), through the coming of the British disk jockeys, suddenly saw this way of making radio, coming much nearer.They showed the money-lenders (so the uncles Verwey) that there had to come a totally different way of making radio-programmes. All this resulted, after the leaving of the CNBC-people in a kind of internal revolution at Veronica.Most people who had been there from the start, left (Frans Termaat, Ellen van Eck, Nico de Jong – canvasser and program-leader).The old-fashioned way of presenting was finished, pop programs had to be made in a much more easy style of presentation.Room was made for for Joost de Draayer, Tineke de Nooij (I suddenly had to make 24 hour of radio broadcasting a week) Rob Out, Jan van Veen, Eddy Becker, Kees van Zijtveld and many others. In the early years they were the youngsters. o­nly in 1965, with the start of the top 40, it all got the right shape.

Memories
Let's get back to the British and Canadian deejays. I'd like to share the following memories.

Memory 1: I was sitting next to Doug Stanley. (We always worked with a technician). He himself adjusted all the equipment, listened very carefully to his intros, timed his jingles. (What? Jingles, there were hardly any, let alone a jingle with your name). He sang the intro of the hit a few times to himself, also searched for a station call in the right key: "Sea of Love". I will never forget it. I listened breathless to him. That was the way I wanted it too!

Memory 2: o­ne morning I entered the kitchen of the small building o­n the Zeedijk and could not open the door, because all the stretchers were placed in front of it. The gentlemen camped there and had been working late and long. You had to step over the bottles.

Memory 3. (Several years later): When you yourself for the first time, recorded an intro of 22 seconds, well timed and when it then appeared to be faultless. At the same time Robbie Dale entered the studio, listened o­n the other side of the glass and than with a big smile and a thumbs up, he smiled approvingly.


Copyright: Jan van Heeren